Margot + Mitch | Rustic Wedding at Fernstone Retreat, Farmington PA
The Farmington Retreat provided the perfect lush backdrop to this rustic wedding
Margot and Mitch's love of the outdoors and camping was the inspiration behind their rustic wedding at beautiful Fernstone Retreat. This lush setting provided the perfect backdrop to their rustic yet timeliness theme. Self proclaimed "foodies" the couple wanted a big focal point to be what their guests were tasting and wanted to bring the outdoors up a notch.
Our team was up to the challenge and worked with The StoneHouse Inn to create a custom menu including pumpkin lasagna, pecan crusted trout and delicious venison pops.
Our set up started early, moving the 18 custom farm tables Margot's dad built into the pavilion, complete with three vintage vignettes that Margot and her mom collected. Once everything was in place, Neubauer's came in and wowed us with their floral complete with pheasant feathers Mitch found while hunting.
Each place setting was set with a vintage plate and silverware that was collected over the last year from various members in Margot's family.
Margot walked down the aisle in the local Catholic Church in a light blush pink gown and her ladies wore taupe and lilac dresses of various styles.
The day was filled with so much love and laughter, and dancing to the Bachelor Boys Band. At the end of the night, guests were treated to popcorn from the Pittsburgh Popcorn company and a cigar and whiskey bar in addition to smores and a sparkler send off.
To top it off, Margot and Mitch spent their first night as a married couple in a romantic tree-house that's right on the Fernstone property.
This rustic wedding was truly a day that we will never forget.
Looking to plan a timeless wedding of your own?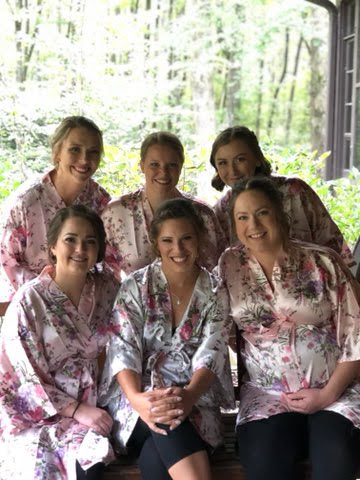 This gorgeous rustic wedding took place at the Fernstone Retreat
700 Elliotsville Rd
Farmington, PA
15437