Amanda + GJ | Andy Warhol Museum Wedding
This Andy Warhol Museum wedding was vibrant and hip, just like the bride and groom
Unique, trendy, colorful, and beautiful not only describe the love between Amanda and GJ, but also describe their special day! These high school sweethearts met in Pittsburgh then moved to New York where they had their son, Greyson – who we must say was the most adorable ring bearer! The couple had a beautiful ceremony at St. Peter's Parish in Pittsburgh, followed by a reception at the Andy Warhol Museum.
As vibrant as their hearts are, Amanda and GJ were definitely not afraid of using colorful design aesthetics for their big day. The couple used Andy Warhol for their inspiration – marrying his art with a modern spin, bringing their vision to life! Floral table runners made the contrasting colors of the table décor pop, while industrial looking chairs added to the hip vibe. It was an intimate atmosphere with close family and friends who were not only able to take a tour of the museum, but visit the photo booth, get a caricature drawing, and create a bandana as keepsakes.
You could feel the love in the room for sure and we absolutely adored all the personal touches that made their day even more special. Amanda's grandmother made their wedding cake, both of their families contributed to the ever so famous Pittsburgh cookie table, and Amanda's bracelet that she wore was actually made of her late grandfather's cufflinks.
When Amanda and GJ called us back in October, we couldn't believe these two wanted to surprise their family with the wedding. We were honored they trusted us to keep the secret and they went to extensive lengths to convince their family they eloped months prior. Guests were told they would be going on a tour of Pittsburgh then coming back for the reception to celebrate this gorgeous couple (who they thought was already married). It was then we announced there would be only one stop on the tour – to see Amanda and GJ get married! I think the reaction on everyone's faces was our favorite part of the day! See for yourself and have a look at all their fun details through their beautiful pictures and by watching their wedding video below!
Here's to a great couple, the cutest family that can rock some killer vans shoes, and a day we will never forget!
Andy Warhol Museum Wedding Vendor Credits
Photography: Caitlin's Living Photography
Planning & Design: Exhale Events
Hair: Roberta Martinko
Make-up: Alexis Rigger
Ceremony: St. Peters Parish
Caricature Drawings: Designs by Foush
DJ: Andrew Smith
Florals: Community Floral Shop
Linens: Mosaic
Rentals: All Occasions Party Rentals
Venue: Andy Warhol Museum
Videographer: Danielle Durbin Film & Video
Looking to plan your wedding near Pittsburgh?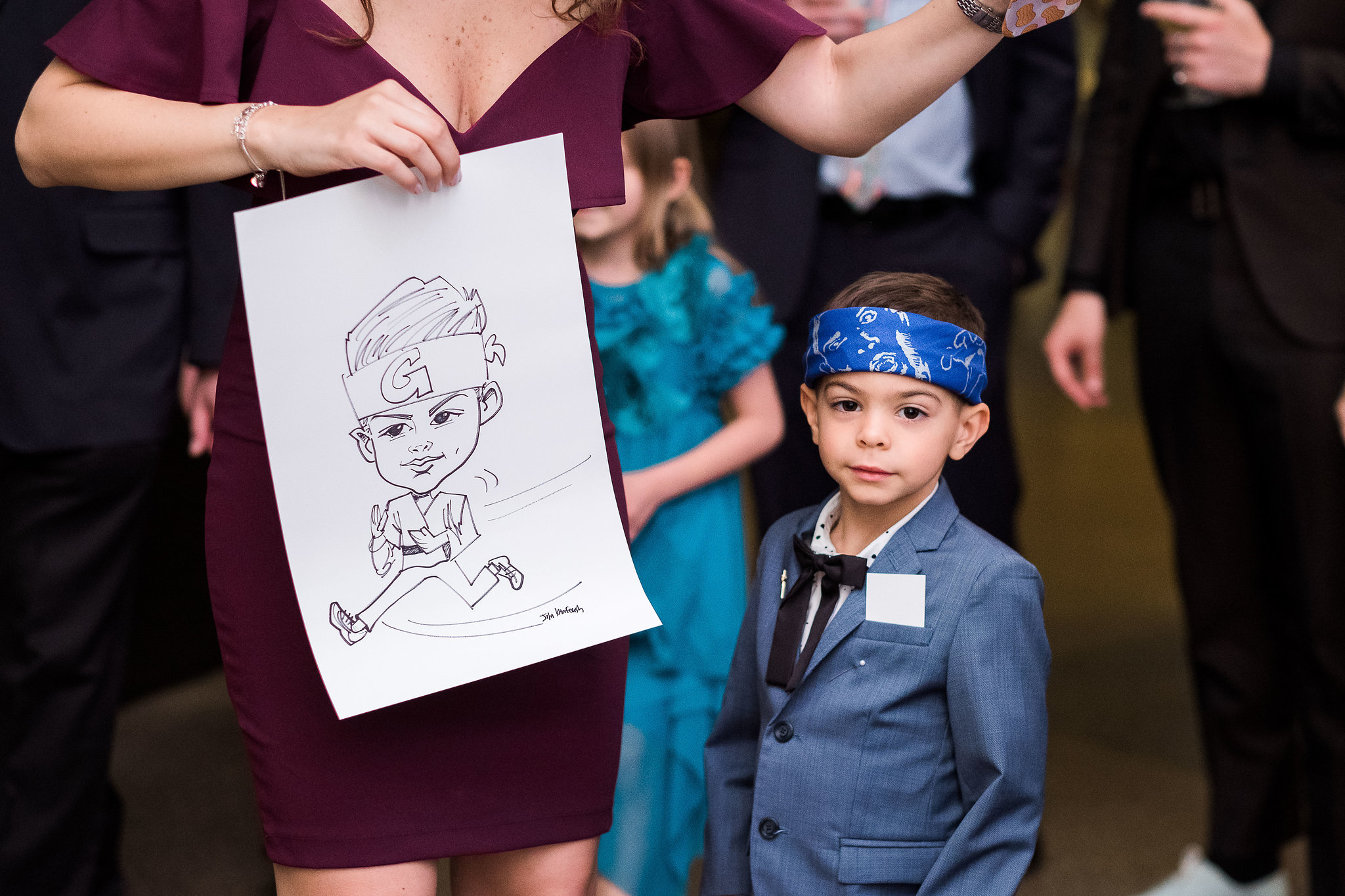 Similar posts to Amanda + GJ Andy Warhol Museum Wedding: